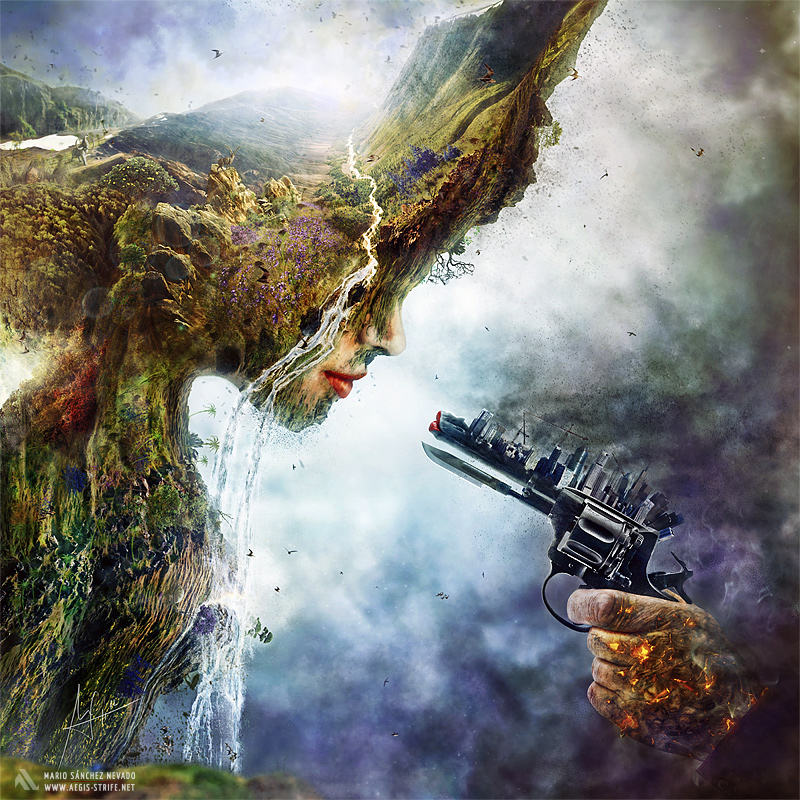 Betrayal – Global Warming Illustration
"Betrayal" is my new global warming illustration, created in Photoshop using matte painting and photobashing techniques.
Hysterical Minds recently release last week their 11th art pack entitled "Empathy" (you can view it here). The main premise this time was the usage of complimentary color combos to buil high-contrast color palettes. The idea to create a versus-like, opposite concepts challenge in the conceptual side was optional, but most artworks end up developing this thematic side as well, and the result's been a wide range of artworks about empathy in many different conceptual fields.
I developed two artworks for this release, "Betrayal", a global warming illustration, and "Nirvana", an artwork about inner peace. The first one was a try out on the global warming – climatic change subject. The illustration is based on a set of very old sketches I drew 4 years ago about domestic violence. Some tweaks here and there on the composition and here we are.
Following, you can find some screenshots of the image process (which took approximately one month, on and off), and some mock-ups / product shots, since the image was developed with printing usage in mind – In fact it's available for licensing as CD/Book cover (get in touch if interested!).